Receiving Department Management for Efficiency & Accuracy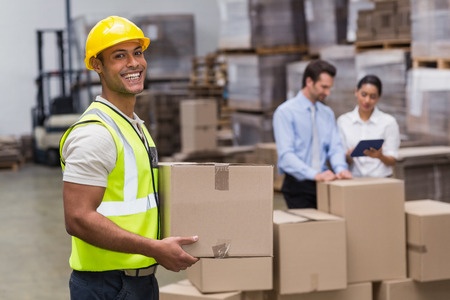 The receiving department plays a critical role in the organization. When the receiving department isn't functioning well, other areas of the organization and your customers will suffer. You'll know this is the case for your organization if any of these examples apply:
Parts are late arriving, and so Purchasing calls the vendor only to learn that the parts were delivered a week ago. Eventually, Purchasing stops placing these calls because it's too embarrassing.
Accounting gets billed for parts that haven't been "received."
Sales employees hear from customers who are angry because their orders haven't shipped. The orders are still waiting on parts to "arrive."
Sales orders haven't closed out, which is impacting cash flow because fulfillment can't happen.
Year-end inventory is a nightmare.
The company is losing money by paying for damaged goods and incorrect shipments from vendors.
You've had safety issues in your shipping and receiving area.
All is not lost. We can help you set up the right systems and processes to get your receiving department working properly. In this article, we'll provide you with tips on
Planning your receiving area
Encouraging consistency and accountability in your receiving department
Developing receiving procedures (our list will help you get started)
Streamlining the handling of material goods
We also invite you to contact us to discuss the systems and processes your particular organization needs to achieve its goals.
How to Plan the Receiving Department Area for Efficiency and Safety
If you plan your receiving department area well, you will be able to quickly and efficiently accept, check in and process incoming freight. This is important as speed and accuracy in the receiving department directly impacts the rest of your team who are counting on those goods arriving, and your customers who benefit from the end product.
The receiving area should be designed to receive and move products through. Avoid shelving that encourages materials to be left stored in the area. The area needs to accommodate the movement of goods that come in various types of packaging. While this depends a lot on the nature of your business, typically the space needs to accommodate the movement of cardboard boxes, pallets, wooden or plastic crates, racks of merchandise on hangers, and other packaging. Consider how you will accommodate the processes of sorting and checking in goods. Keep in mind that how easily merchandise can move through receiving directly impacts the receiving staff's efficiency.
It's also important to address safety issues in your receiving department area. Identify nearby emergency exits and ask staff to keep these clear. Check regularly to make sure exists are free of stock. Also make sure the team keeps aisles and walkways clear to avoid tripping hazards and other injuries.
Encouraging Consistency and Accountability in the Receiving Department
The headaches occurring in your receiving department can be fixed, and it starts with examining your procedures and setting an expectation of consistency and accountability. Even if best practice receiving procedures are well-documented, your staff may not fully understand all the steps or may not realize the impact of NOT following procedures.
Additionally, as your business grows the complexity of receiving goods and validating against purchase orders and vendor invoices becomes more difficult. Adequate systems and processes need to be in place to help you manage the volume of received goods.
As a Receiving Manager, you can request the adoption of systems that will give your team the insight your company needs to effectively manage your material goods. It's also your role to lead the establishment of efficient receiving processes, and to make sure your team understands and adopts them. Explaining the consequences that will impact your customers when receiving processes aren't followed can motivate everyone. By holding your team accountable to following receiving procedures, you will better ensure the accuracy and quality of your goods received.
Developing Receiving Procedures: Best Practice Examples
There are a number of steps most organizations utilize in receiving, not only as part of checking in materials but also to address liability, quality and cost. Below are a few of the receiving procedures we recommend:
Before signing the freight bill, verify the numbers received and closely examine the packaging for signs of damage. On the freight bill, your receiving employee should make a note of any discrepancies or damage, and then properly retain the company's copy of this document. Failure to note external freight damage can relieve the carrier of liability. That means your company could become responsible for bearing the costs of the damage.
Now that you've received the shipment, you can begin checking in the merchandise and documenting receipt. It's important to compare what was received to what is shown on the vendor's packing list to catch any vendor errors.
Did they send you the right product in the correct quantities?
Are any of the products damaged?
If you don't catch incorrect products, quantities, or damage, your company may end up bearing the cost. Additionally, you may not have enough or the right products to fulfill your customer orders. You could lose customers.
It will also be necessary to compare the vendor invoice to the packing list and your company's purchase order.
Did the costs remain the same? Note any differences so they can be followed on.
Discrepancies in costs can impact the company's ability to provide quality goods to customers and to maintain operations.
Identify who will follow on discrepancies and make this consistent.
An ERP system can help you manage the receiving process by quickly linking together orders with invoices and other documents, allowing your receiving employees to zoom across from one document to the next. By receiving goods in an ERP, you'll also automate communications and the generation of pick tickets, closeout of sales documents, and many other steps, allowing your employees to become more efficient in managing higher volumes.
Streamlining the Handling of Received Goods for Efficiency
You can speed up receiving by putting in place certain handling procedures. For example, when receiving large shipments, plan for how the freight will be unloaded. You may want to begin sorting like merchandise together as the freight is unloaded to make checking in the merchandise easier.
By identifying the physical placement of goods as they move through the receiving process, you can also reduce the time spent handling items and questioning the status of materials.
Next Steps: Managing Receiving Procedures in Your Organization
Managing the movement of material goods is an area where Trek Global excels, and we would be glad to serve as your guide to help improve processes in your receiving department. As a technology and business process consultant to many other organizations, including all sizes of manufacturing, wholesale distribution, e-retail and other industries, Trek Global can help you transform your receiving procedures and achieve higher levels of operational excellence. We'd be glad to discuss your needs and provide you with options to consider. Contact us to learn more.
Related articles
Inventory Management Secrets: 4 Steps to Implement Today
10 Distribution Center Best Practices to Implement
4 Ways ERP Connectivity Improves Your Business